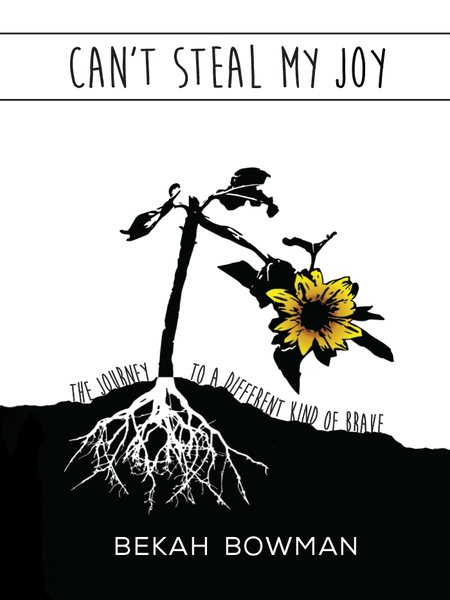 We are all broken. It's a unified human experience.
And we all need a hope that doesn't disappoint,
a love that anchors us,
joy that survives in unthinkable conditions,
and a perspective shift that goes beyond our circumstances.
Some days we feel the perfection of sunshine and a light breeze. Other days hold wet, gray skies with drowning grief. In the wake, comes promise of new growth. Still other days a cold winter frost catches us by surprise, halting our journey toward fruitful blooms. We step back, reeling at the damage from this frost. We question the system and environment we grow in.
We can exist in this garden dictated by the changing weather patterns. Or, we can see a different kind of brave living–that which exists beyond our fragile stems and dainty leaves, living instead deep in our roots.
This book is for those sitting in the deep-down dark, traveling with grief as a constant companion, and anyone whose life path has taken an unexpected turn.
Bekah shares the heart break of a fatal diagnosis for not just one, but both her children. As she journeyed through dark valleys of death, it was there she experienced Jesus in a whole new way–in deeply broken places. Her journey holding pain in one hand and joy in the other is vulnerably scribbled out on these pages as she tore open the wounds in her soul to share how Christ created beauty and goodness in it all. It was in this journey, she learned to see wholeness in cracks, courage in the broken-hearted, and bravery in the act of letting go.
May you discover the Life-Giver of joy,
see your beautiful bloom,
and know that hope is always worth holding on to,
because redemption is coming—and in fact—is already happening here and now.
Order your copy of Can't Steal My Joy by Bekah Bowman
*Amazon buy buttons are my affiliate links. That just means Amazon sends me a small percentage for each sale they make, but it doesn't change any pricing on your end. Thanks for the support!
What readers are saying…
Melinda
I had the absolute pleasure of being able to read Bekah Bowman's book, Can't Steal My Joy, before it hit the bookshelves. I honestly have not read anything so moving and soul stirring since, The Shack. Whether you are in a season of mourning or grief, or in my case, struggling in the heaviness of life to find peace and joy within, this book helps lift the veil of sadness to reveal God's promise that He never leaves you. God makes his presence known everyday in little ways if you only stop to look for the joy outside the pain. Bekah is a gifted writer and I'm so excited to share this book with my friends and family.
Melinda
Sara
This book was wonderful! As the reader, I felt as if I were living life through the shoes of the author. Her raw, realness was reflected in each chapter, and her ability to point the reader back to God throughout all the struggles helped me look to God in my own struggles in life, while also checking my heart in my own relationship with Him. The light and joy she found in these deep moments of struggle and grief allow the reader to understand how we all carry this same light, and how joy is found in unexpected places.
Sara
Anne Riley
Can't Steal My Joy is an honest, real-life account of a life storm that drops down right on top of you with no warning – and the unspeakable beauty that blooms from the wreckage. Bekah's heart beats in every page, every word. To read her story from start to not-yet-finished, it's only natural to wonder how anyone could survive something like this. But the truth is that Bekah and Danny have done much more than survive. They have thrived. And as for the how? Jesus – only Jesus. God's grace weaves seamlessly throughout each moment of confusion, devastation, hope, surrender, and triumph. You cannot read this book without seeing the Creator and longing for all things new.
Anne Riley
Kelly
This book is both heart-wrenching and hopeful, a beautiful story of a life of redemption and joy. I loved reading this book and following Bekah and her family's journey, her thoughts, emotions, struggles, and triumphs. She is both raw and real, and it's a fast-paced read. I highly recommend to anyone who wonders if they'd be able to handle true suffering, to anyone who has endured grief of any kind, to anyone who likes a story with a hopeful ending, to anyone who has ever wondered where God is in the midst of true pain.
Kelly
Staci
Have you ever experienced any kind of brokenness in your life? Who of us hasn't? Whether you have walked the difficult journey of facing a terminal illness diagnosis being given to your child or you have been beaten down by the typical rhythms of life, then Can't Steal My Joy will speak straight to your heart. Not only will it speak to your heart, but it will reach the depths of your heart where the biggest heartbreak exists while at the same time touching the peak of your heart where the greatest love and joy is found. Can't Steal My Joy is a real-life account written with raw emotion and authenticity. We are invited to take a front row seat of the author's own family's journey in the face of severe adversity. In this seat, we hear from the author's heart of how she learned pain and joy can co-exist. She shows us how she (and her family and friends) felt the biggest heartbreak and pain of their life and yet they were able to draw strength by fighting the real enemy of our souls and gaining a new perspective to see adversity through the lens of Jesus Christ – even when facing the largest heartbreak imaginable.
Staci
Jody
Reading this book was a hallowed, life altering experience, where the veil into an unthinkable story is lifted. You are invited in by a mother's achingly honest, soul stirring words to a front row seat of how life's ultimate heartbreak and God's absolute goodness intersect.
As I was reading, I was transported into the depths of this family's story by the unmatched transparency and vulnerability shared by the author. She holds nothing back in rawly sharing her family's painful experience and the truths learned in the midst of such heartbreak.
As I read of this mom's fears, hopes, insecurities, heartbreak, and ultimately how she was able to grab a hold of joy in the midst of both her sons being given a fatal diagnosis, there was healing taking place in my own soul as her generosity of sharing so truthfully gave voice to the depths of brokenness that is the human experience.
With the author's gift of words, the story being told, and the One glorified by it all, I can without a doubt say this book is one of the most life impacting books I have ever read. I highly recommend this book.
Jody Bullard
Enter your email below for more from the author!
Share #CantStealMyJoyTheBook with your friends!
---